Our business is based on our people. To achieve business success, it is vital to ensure our people succeed and thrive at work because it motivates us all to do our finest to serve our customers. They are proud of our culture of total commitment to customer service, improvements on a continual basis, and the highest quality and performance. Throughout the generations of employees, LEVITEX has continuously transferred skills and technical expertise. By growing our employees, we will be able to grow as a company.

 LEVITEX provides its expertise, technology, and resources to support the local community, including staff participation in annual school tours of the manufacturing facilities in Frosinone and a "School/job alternation program" providing young students with the opportunity to gain valuable work experience at the LEVITEX headquarters offices to help them begin their careers.  
LOCAL INITIATIVES SUPPORT​
It is important that our business activities reflect our commitment to the community. As part of our mission to build a more inclusive and cohesive society, LEVITEX is committed to partnering with social initiatives.

By training and developing our team, we build people's skills and expertise and reward them for success and excellence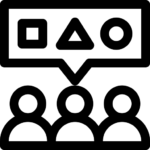 The promotion of the highest labor standards at work and the respect for individual rights and diversity, including freedom of association and non-discrimination.